Sign of Love 1
Evie e Leo se conheceram em um orfanato quando crianças e formaram um laço de amizade.
À medida que cresciam, este vínculo tornou-se amor e prometeram construir uma vida juntos, quando completassem 18 anos e já não fizessem parte do sistema.
Quando Leo inesperadamente é adotado, e se muda para outra cidade, ele promete a Evie que entrará em contato com ela assim que chegar lá e voltaria para ela em poucos anos.
Mas ela nunca mais ouviu falar dele novamente.
Agora, oito anos depois, apesar de todas as probabilidades, Evie fez uma vida para si mesma. Ela tem um emprego, ela tem amigos, ela é alguém.
Então, um homem aparece do nada, alegando que seu amor perdido, Leo, o mandou para saber como ela está. A atração entre eles é inegável. Mas, ela deve confiar em um estranho sexy? Ou ele está guardando um segredo sobre o que sua conexão com Leo é realmente e por que Leo desapareceu há tantos anos?
Sign of Love 2
Leo's Chance é o livro de Mia Sheridan que sucede Leo...
Será que todo mundo merece uma segunda chance? Mesmo alguém que mente e engana outros para obtê-la? Será que a segunda chance vem para todos? Mesmo que isso desempenhe um papel em nossa própria destruição? Quão duro você lutar para ter uma segunda chance no amor? Uma segunda chance na vida? Outra chance de contar a sua própria história?
Toda história de amor tem dois lados. Evie contou a dela... Desta vez é a chance de Leo.
Resenhas Skoob:
http://www.skoob.com.br/livro/resenhas/324115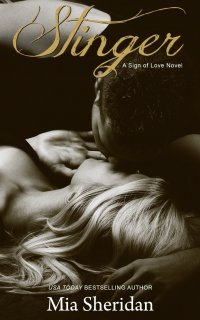 Sign of Love 3
Grace Hamilton era a garota com um plano. Ela sabia exatamente onde sua vida estava indo e se orgulhava de sempre alcançar seus objetivos.Foi quem ela era e como ela viveu a vida dela. Ela nunca pisou fora das linhas, e nunca considerou que poderia desejar realmente estar se esforçando para agradar. Até ele ...
Carson Stinger era um homem que não jogou por nenhuma regra, exceto a sua própria.Trabalhando na indústria do entretenimento adulto, ele não se importa com o que os outros pensavam, e tomou cada dia como ele veio, sem direção, nenhum plano. Ele sabia o que as mulheres queriam dele e acreditava que era tudo o que tinha para oferecer. Até ela ...
Quando as circunstâncias os forçaram a passar várias horas juntos, eles tentaram se afastar. Mas para duas pessoas totalmente diferentes, conseguiriam superar suas realidades e suas vidas muito diferentes, isso seria possível...
Resenhas Skoob:
http://www.skoob.com.br/livro/resenhas/334518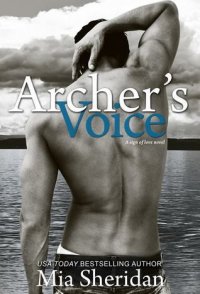 Sign of Love 04
Quando Bree Prescott chega a Sleepy, cidade à beira do lago de Pelion, no Maine, ela possui esperança de que este é o lugar aonde irá finalmente encontrar a paz que procura desesperadamente. Em seu primeiro dia, sua vida colide com Archer Hale, um homem isolado que detém uma agonia secreta. Um homem que ninguém mais vê. Archer's Voice é a história de uma mulher acorrentada à memória de uma noite horrível e que o homem, cujo amor, é a chave para sua liberdade. É a história de um homem silencioso, que vive com uma ferida dolorosa e da mulher que o ajuda a encontrar sua voz. É a história do sofrimento, destino e o poder transformador do amo
FAB e EL
Resenhas Skoob:
http://www.skoob.com.br/livro/resenhas/368165
Sign of Love 05
Há um lugar na moderna América, sem eletricidade, sem esgoto e sem as conveniências modernas. Neste lugar, não há espaço para os sonhos, não há espaço para a autoexpressão e nenhuma tolerância para a ambição.
Neste lugar, há um garoto com o corpo de um deus e coração de um guerreiro. Ele é forte e fiel, e serve sua família com honra. Mas ele se atreve a sonhar com mais.
Neste local, há uma menina com o rosto de um anjo e um coração cheio de coragem. Para sua família, ela é a visão da perfeição obediente. Mas ela se atreve a querer aquilo que lhe foi dito que nunca pode ser dela.
Becoming Calder é a história do bem contra o mal, o medo em relação a bravura, e a verdade que a luz do amor sempre encontrou o seu caminho para até mesmo o mais escuro dos lugares... Desde o início dos tempos, até o fim do mundo.
Resenhas Skoob:
http://www.skoob.com.br/livro/resenhas/398041/edicao:450726
Sign of Love 06
Finding Eden é a continuação e conclusão, de Becoming Calder.
Quando o mundo como você sabe que acabou, quando tudo o que você ama tem sido lavados, onde você encontra força?
Quando o novo mundo que você entrou é como isolar como o último, quando o seu coração está quebrado, e seu futuro é incerto, onde você encontra a esperança?
Finding Eden é uma história de força, descoberta, perdão e amor eterno. É sobre acreditar em seu destino e seguir o caminho que conduz à paz.
Resenhas Skoob:
http://www.skoob.com.br/livro/resenhas/404828/edicao:459116
Sign of Love 07
Tenleigh Falyn se esforça todos os dias para sobreviver em uma pequena e pobre cidade de mineração, onde ela vive com a sua irmã e sua mãe que é doente mental. O seu sonho é ganhar a bolsa de estudo oferecida pela empresa mineira local e escapar das dificuldades que a sua vida continua a dar - lhe.
Kyland Barrett também vive nas colinas, e tem trabalhado incansavelmente – contra todas as probabilidades passando por fome e uma solidão profunda - para ganhar a bolsa de estudos Tyton Coal e deixar a cidade que para ele representa apenas dor.
Ambos estão determinados a não formar qualquer tipo de relação, mas um momento muda tudo. O que acontece quando apenas uma pessoa pode ganhar? Quando apenas uma pessoa pode ir embora? E o que acontece com aquele que ficou para trás?
Kyland é uma história de desespero e esperança, perda e sacrifício, dor e perdão, mas, em última análise, uma história de amor profundo e sem fim.
Resenhas Skoob:
http://www.skoob.com.br/livro/resenhas/429816/edicao:486869
Sign of Love 08
Kira Dellaire está desesperada.
Alguns desafios da vida parecem muito difíceis de superar. Com pouco dinheiro e ainda menos opções, a moça de vinte e dois anos de idade vibrante e de
raciocínio rápido precisa reinventar-se. Conhecida por seu generoso coração e personalidade impulsiva, ela inventa um plano de sobrevivência e, possivelmente, sua ideia mais ultrajante.
Grayson Hawthorn está perdendo a esperança.
Alguns obstáculos da vida parecem muito difíceis de superar. Traição definitivamente é um deles. Com capital limitado e escassez de recursos, ele está tentando ressuscitar o vinhedo falido de sua família, um voto auto-imposto,
aparentemente destinado ao fracasso. Isso é, até que uma jovem mulher entra em seu escritório com uma estranha e inesperada proposta, impossível de recusar.
O que começou como um acordo de negócios temporário logo torna-se algo mais, quando a alegre e espirituosa Kira desafia o arrogante Grayson a querer algo mais da vida. Querer algo mais para si mesmo. Mas, quando suas
vontades entram em conflito e a paixão ardente inflama, eles vão perceber que, às vezes, o passado cria muros muito difíceis de escalar, e que mentiras e enganos raramente precedem um felizes para sempre.
Enquanto Kira e Grayson correm em direção a seu destino, vão descobrir que algumas promessas são feitas para serem quebradas, e que por outras vale a pena arriscar tudo... até mesmo seu próprio coração.
Resenhas Skoob:
http://www.skoob.com.br/livro/resenhas/513809/edicao:520359
Sign of Love 09
Holden Scott é o príncipe do futebol profissional. Ou pelo menos era, até perder tudo... Na verdade, até ele jogar tudo fora. Agora ele está sem emprego, sem as boas graças do público, e talvez até um pouco louco. Então quando um amigo lhe oferece sua cabana no interior do Colorado, dando a Holden algum tempo para colocar sua vida nos eixos, ele dificilmente poderia dizer não. A última coisa que ele esperava era
ver uma linda garota na floresta – uma usando um vestido branco de renda, que surge ao luar, e não deixa pegadas para trás. Será ela um sonho? Um fantasma? Um produto
de sua imaginação confusa? Ou algo completamente diferente?
Midnight Lily é a história de amor assombrada de duas almas perdidas que buscam uma à outra na escuridão. Uma história sobre cura, aceitação, e sobre os mundos que criamos para proteger nossos próprios corações. Uma história sobre estar perdido, sobre ser encontrado... e sobre estar em algum lugar no meio disso.
Resenhas Skoob:
https://www.skoob.com.br/livro/resenhas/537578/edicao:546746
Sign of Love 10
Lydia Havilland fica chocada quando Brogan Ramsay de repente reaparece em sua vida. Vários anos antes, Brogan era o filho do jardineiro da família dela, o menino que ela havia magoado e traído.
Mas Brogan não é mais o menino quieto e sensível do qual ela se lembra. Agora ele é um homem lindo, poderoso... e que busca vingança. Brogan Ramsay não consegue esquecer a memória de Lydia enganando-o cruelmente, deixando seu coração despedaçado e sua família sem um tostão.
E agora ele está de volta, pronto para destruir a família dela da mesma maneira como a sua foi destruída. Há apenas um problema... a menina que tanto o feriu anos atrás é agora uma mulher crescida, e que ainda tem o poder de deixá-lo sem fôlego.
Ramsay é uma história de traição e ira, da força do arrependimento e do poder do perdão. É a história do fino véu entre o amor e o ódio, e de como na maioria das vezes, quando procuramos causar sofrimento aos outros, o coração ferido é o nosso próprio.
Resenhas Skoob:
https://www.skoob.com.br/livro/resenhas/590192/edicao:591154
Sign of Love 11
"Havia dois irmãos – gêmeos idênticos – e embora eu amasse os dois, minha alma pertencia a apenas um."
Annalia DelValle amou Preston Sawyer por toda sua vida. Como filha de um pobre trabalhador agrícola imigrante, ela cresceu como um pária em uma minúscula cabana, em Central Valle na Califórnia. Mas seu coração encontrou liberdade na terra, nos espaços abertos da Fazenda Sawyer e nos garotos que eram seus únicos amigos.
Preston tem ansiado por Annalia desde que era um menino. Mas um sentimento de honra o impedia de persistir até que ele não pudesse segurar mais e seus mundos – e corpos – colidiram em uma quente noite de verão. Uma noite que desencadeou uma cadeia de eventos que iria alterar suas vidas para sempre.
Agora Annalia está de volta à cidade, depois de desaparecer sem rastro durante seis longos meses. Determinada a recuperar seu coração, sua vida e o bebê que ela deixou para trás – o filho que foi criado em um momento de luxúria, amor e anseio reprimidos.
Preston sobreviveu ao sofrimento, a uma seca devastadora e ao desespero da mágoa, mas não está certo de que vai sobreviver a Annalia novamente. E ele pode não estar disposto a tentar. O orgulho e a amargura o manterão longe da única coisa que ele sempre desejou?
Como você cura o que está irremediavelmente quebrado? Como você perdoa o que é imperdoável? Como você descobre que a verdadeira honra não vem das circunstâncias, mas do lugar no fundo de nossos corações onde a verdade reside? E como você vai além das feridas do passado para descobrir que alguns amores são tão sólidos como o chão sob seus pés e tão duradouros quanto a própria Terra?
Resenhas Skoob:
https://www.skoob.com.br/livro/resenhas/648100/edicao:650125