In the Company of Killers 01
A história é de uma garota americana, Sarai, que foi entregue para um traficante de drogas mexicano, com a idade de quatorze anos, por sua própria mãe. Sua vida desde então tem sido cheia de drogas, brutalidade, assassinato e escravidão. Ela sabe que a fuga é inútil - seria suicídio.
Lá fora, no meio do México, não há literalmente nenhum lugar onde ela possa ir.Assim, quando um assassino chega aos negócios, ela vê sua chance de escapar. Tudo o que ela quer é chegar em casa. Mas fugir tem suas consequências. Victor é um homem difícil e de sangue frio - treinado desde cedo para ser um assassino... e agora ele é sua única chance de sobrevivência
Resenhas Skoob:
http://www.skoob.com.br/livro/resenhas/329741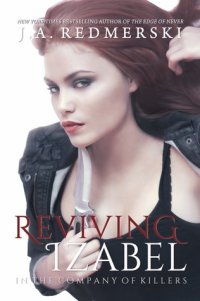 In the Company of Killers 02
Determinada a viver uma vida sombria na companhia do assassino que a libertou da escravidão, Sarai pretende ajustar sozinha as contas com um sádico do mal. Não-qualificada e inexperiente na arte de matar, os eventos que se desenrolam a deixam pendurada precariamente à beira da morte, quando nada sai como planejado. As escolhas imprudentes de Sarai a enviam em um caminho que ela sabe que nunca poderá voltar atrás e assim ela se apresenta a Victor com um ultimato: ajudá-la a tornar-se mais parecida com ele e dar-lhe uma chance de lutar, ou ela fará isso sozinha, não importa as consequências.
Sabendo que Sarai não pode se tornar o que ela quer de um dia para o outro, Victor começa a treiná-la e, inevitavelmente, a relação complicada deles esquenta. Enquanto o braço direito de Arthur Hamburgo, Willem Stephens, se aproxima em sua cruzada para destruir Sarai, ela fica com a esmagadora percepção que pode ter abocanhado mais do que pode mastigar. Mas Sarai, assumindo o novo e melhorado papel de Izabel Seyfried, ainda tem um conjunto de habilidades mortais próprias que irão provar ser tudo o que ela precisa para garantir o seu lugar ao lado de Victor. Mas há mais um teste que ela deve enfrentar que tem o potencial de destruir tudo o que está trabalhando tão duro para conseguir. Um teste final que não só vai fazê-la questionar sua decisão de querer essa vida perigosa, mas fará com que questione tudo o que passou a confiar a respeito de Victor Faust.
Resenhas Skoob:
http://www.skoob.com.br/livro/resenhas/334541
In the Company of Killers 03
Fredrik Gustavsson nunca considerou a possibilidade do amor, ou que algum dia alguém pudesse entender ou aceitar seu estilo de vida sombrio e sangrento... Até que ele conheceu Seraphina, uma mulher tão cruel e sedenta por sangue como o próprio Fredrik. Eles passaram dois curtos, mas inesquecíveis, anos juntos, cheios de luxúria, morte e do tipo de amor mais obscuro que duas pessoas podem compartilhar.
E então Seraphina não estava mais lá.
Já se passaram seis anos desde que a amante e parceira de crime sádica de Fredrik virou o mundo dele de cabeça para baixo. Seraphina escondeu-se e o iludiu desde então. Agora, ele está cada vez mais perto de encontrá-la, e uma mulher inocente chamada Cassia é a chave para tirar Seraphina das sombras. Mas Cassia, depois de sofrer ferimentos em um incêndio que Seraphina deu início, sofre de amnésia e não pode dar a Fredrik a informação que ele procura desesperadamente. Não tendo outra escolha, Fredrik vem mantendo Cassia trancada em seu porão, não apenas tentando fazê-la recordar de seu passado, uma vez que ela e Seraphina o compartilham, mas também para protegê-la de Seraphina, que claramente quer vê-la morta.
Mas Cassia é uma luz na escuridão que Fredrik nunca acreditou que existisse. Depois de um ano submetido a sua bondade e compaixão, ele se vê lutando com o seu amor por Seraphina, e seus crescentes sentimentos por Cassia, porque ele sabe que para amar uma, a outra deve morrer.
Irá a luz prevalecer sobre as trevas, ou algo mais poderoso do que ambos irá destruir ainda mais uma alma já torturada?
Resenhas Skoob:
https://www.skoob.com.br/livro/resenhas/377801/edicao:426817
In the Company of Killers 04
A nova ordem de Victor Faust está crescendo, deixando pouco tempo para muitas outras atividades que não sejam os trabalhos realizados para um mundo de crimes violentíssimos e contratos de assassinatos.
É bem verdade que os relacionamentos dos casais da equipe têm mudado um pouco ao longo do último ano, mas as coisas estão prestes a mudar. Desta vez, os seis membros de alto escalão da nova Ordem estão cegos para com o inimigo. Algumas das pessoas amadas por alguém da organização, cujo único vínculo com ela é o relacionamento, são raptadas e o preço para o resgate delas em segurança pode ser caro.
Cada um dos seis precisa contar o mais temeroso e profundo segredos para uma mulher nova chamada Nora, que é tão mortal quanto bonita, e que parece saber muito mais sobre eles do que eles mesmos.
Mesmo sem saberem quem ela realmente é, fica claro que ela não é quem aparenta. Entretanto, não são só segredos e vidas que estão em pauta, mas a verdade sobre o passado e o presente pode gerar suspeitas, irritações e tristezas.
Antes do jogo acabar, todos saberão quem é a mulher e o motivo dela ter aparecido. Mas o estrago que ela vai ter feito pode ser o início da destruição da nova ordem. Será que conseguirão sobreviver a isto?
In The Company of Killers 05
Desde que devastadores segredos foram revelados por Nora Kessler, a relação de parceiros de negócios e irmãos entre Niklas Fleischer e Victor Faust não tem sido mais a mesma. Mas agora Niklas foi persuadido a liderar uma missão na Itália, e ele a vê como uma oportunidade de colocar em prática o perdão — ou vingança — pela traição de seu irmão.
A missão: passar-se por um rico investidor alemão e sequestrar a bela e conhecida cafetina Francesca Moretti. Acostumado a este tipo de papel, Niklas é o melhor homem para o serviço, mas desta vez o risco pode ser muito maior, já que não estará sozinho. Izabel Seyfried, ainda recém saída de uma vida de aprisionamento e escravidão sexual, poderá ser negativamente afetada pelas coisas que ela irá ver na Mansão Moretti, e Niklas precisará mantê-la na linha para que ela não estrague seus disfarces e os leve a morte.
Mas Niklas não é o único que precisará interpretar um papel — Nora assume a humilhante tarefa de interpretar a escrava de Niklas, e Isabel precisará interpretar o papel de sua amante. Se por um lado Niklas não poderia estar mais satisfeito, por outro lado as emoções que continuam a correr por dentro dele talvez sejam muito grandes para serem controladas, e talvez seja Niklas — e não Izabel — quem precisará ser mantido na linha.
Ele não consegue esquecer o que Victor fez, e esta missão talvez seja o início de uma queda em espiral.
Poderão os laços de sangue que Niklas e Victor dividem como irmãos serem mais fortes que o ressentimento? Ou a lâmina da vingança penetrará tão profundamente que seus laços serão eternamente danificados?
Resenhas Skoob:
https://www.skoob.com.br/livro/resenhas/423166/edicao:479215
In the Company of Killers 06
Até mesmo os assassinos profissionais precisam de férias, mas para Victor Faust, suas férias na Venezuela são mais do que relaxamento e tempo sozinho com Izabel Seyfried. É uma possibilidade dele se livrar de Izabel: dizer a ela a verdade sobre do por que ele a enviou para a Itália com o seu irmão, a verdade por trás do interesse em Nora Kessler e sobre o seu conhecimento do filho de Izabel com o seu antigo raptor. Mas, antes que Victor possa derramar sua alma, a realidade prova que, para alguns assassinos, as férias são apenas sonhos turbulentos.
Atacada e sequestrada, Izabel encontra-se presa em uma mala, enquanto Victor, mais tarde, acorda preso em uma gaiola. Em qualquer outra situação, Victor poderia encontrar uma saída e se salvar junto com a mulher que ama, mas não desta vez. Quando as identidades de seus sequestradores são reveladas, Victor perde a esperança e começa o processo mental de aceitação dos últimos momentos dele e Izabel juntos. E os momentos finais da vida de Izabel.
Como se as circunstâncias não fossem suficientemente complicadas, membros da Ordem de Vannegut estão finalmente cercando Victor. E, quando eles fazem, ele fica cara a cara com outra pessoa que ele já conhecia e amava que poderia ajuda-lo ou fazer uma situação grave ficar muito pior. O passado de Victor finalmente o alcançou: as mulheres que ele se importou, amou e matou, as famílias que ele destruiu, os crimes imperdoáveis que ele cometeu. E agora ele deve enfrentar as consequências e pagar o preço final para absolvição.
Mas, quando tudo acabar, Victor talvez não tenha forças para pegar o resto e seguir em frente. Por que o evento o mudou. Por que o amor o mudou. E, por que, ao contrário de antes, quando ele pensou que era o melhor, ele não pode imaginar uma vida sem Izabel nela.
Resenhas Skoob:
https://www.skoob.com.br/livro/resenhas/583132/edicao:584718
In the Company of Killers 07
Izabel e Naeva encontram-se exatamente onde queriam estar no México: capturadas e mantidas em complexo de escravos de propriedade da família Ruiz. Mas as duas são imediatamente separadas e forçadas a muito diferentes — mas igualmente perigosas — situações. Izabel passa as próximas três semanas desempenhando um papel que ela nunca esperou que tivesse a oportunidade de interpretar, mas sua sorte acaba quando a vida de Naeva está em jogo, e apenas Izabel pode salvá-la.
Mas a um custo terrível.
Se Izabel escolher ajudar Naeva, isso irá expor uma mentira que ela carrega em seus ombros desde que conheceu Victor Faust. Uma mentira que não apenas fará com que todos na Ordem de Victor desconfiem dela daqui para frente, mas também que seu disfarce cuidadosamente construído no México exploda e a mate.
Fredrik, ainda procurando por seu serial killer, não precisa procurar muito: o assassino o encontra. E o passado de Niklas o alcança quando um velho inimigo volta para se vingar.
Mas serão as ações de Victor que sacudirão os que restaram em sua Ordem e, finalmente, serão sua queda.