In the Company of Killers 01
A história é de uma garota americana, Sarai, que foi entregue para um traficante de drogas mexicano, com a idade de quatorze anos, por sua própria mãe. Sua vida desde então tem sido cheia de drogas, brutalidade, assassinato e escravidão. Ela sabe que a fuga é inútil - seria suicídio.
Lá fora, no meio do México, não há literalmente nenhum lugar onde ela possa ir.Assim, quando um assassino chega aos negócios, ela vê sua chance de escapar. Tudo o que ela quer é chegar em casa. Mas fugir tem suas consequências. Victor é um homem difícil e de sangue frio - treinado desde cedo para ser um assassino... e agora ele é sua única chance de sobrevivência
Resenhas Skoob:
http://www.skoob.com.br/livro/resenhas/329741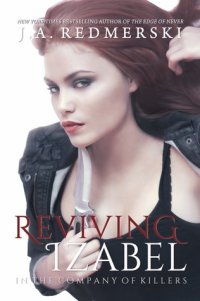 In the Company of Killers 02
Determinada a viver uma vida sombria na companhia do assassino que a libertou da escravidão, Sarai pretende ajustar sozinha as contas com um sádico do mal. Não-qualificada e inexperiente na arte de matar, os eventos que se desenrolam a deixam pendurada precariamente à beira da morte, quando nada sai como planejado. As escolhas imprudentes de Sarai a enviam em um caminho que ela sabe que nunca poderá voltar atrás e assim ela se apresenta a Victor com um ultimato: ajudá-la a tornar-se mais parecida com ele e dar-lhe uma chance de lutar, ou ela fará isso sozinha, não importa as consequências.
Sabendo que Sarai não pode se tornar o que ela quer de um dia para o outro, Victor começa a treiná-la e, inevitavelmente, a relação complicada deles esquenta. Enquanto o braço direito de Arthur Hamburgo, Willem Stephens, se aproxima em sua cruzada para destruir Sarai, ela fica com a esmagadora percepção que pode ter abocanhado mais do que pode mastigar. Mas Sarai, assumindo o novo e melhorado papel de Izabel Seyfried, ainda tem um conjunto de habilidades mortais próprias que irão provar ser tudo o que ela precisa para garantir o seu lugar ao lado de Victor. Mas há mais um teste que ela deve enfrentar que tem o potencial de destruir tudo o que está trabalhando tão duro para conseguir. Um teste final que não só vai fazê-la questionar sua decisão de querer essa vida perigosa, mas fará com que questione tudo o que passou a confiar a respeito de Victor Faust.
Resenhas Skoob:
http://www.skoob.com.br/livro/resenhas/334541
In the Company of Killers 03
Fredrik Gustavsson nunca considerou a possibilidade do amor, ou que algum dia alguém pudesse entender ou aceitar seu estilo de vida sombrio e sangrento... Até que ele conheceu Seraphina, uma mulher tão cruel e sedenta por sangue como o próprio Fredrik. Eles passaram dois curtos, mas inesquecíveis, anos juntos, cheios de luxúria, morte e do tipo de amor mais obscuro que duas pessoas podem compartilhar.
E então Seraphina não estava mais lá.
Já se passaram seis anos desde que a amante e parceira de crime sádica de Fredrik virou o mundo dele de cabeça para baixo. Seraphina escondeu-se e o iludiu desde então. Agora, ele está cada vez mais perto de encontrá-la, e uma mulher inocente chamada Cassia é a chave para tirar Seraphina das sombras. Mas Cassia, depois de sofrer ferimentos em um incêndio que Seraphina deu início, sofre de amnésia e não pode dar a Fredrik a informação que ele procura desesperadamente. Não tendo outra escolha, Fredrik vem mantendo Cassia trancada em seu porão, não apenas tentando fazê-la recordar de seu passado, uma vez que ela e Seraphina o compartilham, mas também para protegê-la de Seraphina, que claramente quer vê-la morta.
Mas Cassia é uma luz na escuridão que Fredrik nunca acreditou que existisse. Depois de um ano submetido a sua bondade e compaixão, ele se vê lutando com o seu amor por Seraphina, e seus crescentes sentimentos por Cassia, porque ele sabe que para amar uma, a outra deve morrer.
Irá a luz prevalecer sobre as trevas, ou algo mais poderoso do que ambos irá destruir ainda mais uma alma já torturada?
Resenhas Skoob:
https://www.skoob.com.br/livro/resenhas/377801/edicao:426817
In the Company of Killers 04
A nova ordem de Victor Faust está crescendo, deixando pouco tempo para muitas outras atividades que não sejam os trabalhos realizados para um mundo de crimes violentíssimos e contratos de assassinatos.
É bem verdade que os relacionamentos dos casais da equipe têm mudado um pouco ao longo do último ano, mas as coisas estão prestes a mudar. Desta vez, os seis membros de alto escalão da nova Ordem estão cegos para com o inimigo. Algumas das pessoas amadas por alguém da organização, cujo único vínculo com ela é o relacionamento, são raptadas e o preço para o resgate delas em segurança pode ser caro.
Cada um dos seis precisa contar o mais temeroso e profundo segredos para uma mulher nova chamada Nora, que é tão mortal quanto bonita, e que parece saber muito mais sobre eles do que eles mesmos.
Mesmo sem saberem quem ela realmente é, fica claro que ela não é quem aparenta. Entretanto, não são só segredos e vidas que estão em pauta, mas a verdade sobre o passado e o presente pode gerar suspeitas, irritações e tristezas.
Antes do jogo acabar, todos saberão quem é a mulher e o motivo dela ter aparecido. Mas o estrago que ela vai ter feito pode ser o início da destruição da nova ordem. Será que conseguirão sobreviver a isto?